NEWSBREAKERS
GSA is going for GOLD
GSA GOLD (GSA Geoscience Online Lecture & Discussion) is an online lecture and discussion series from the Geological Society of Australia, held on the first Tuesday of the month.
The inaugural speaker for GSA GOLD is Professor Alan Collins, an ARC Future Fellow and Director of the Centre for Tectonics, Resources and Exploration (TRaX) at the University of Adelaide. He is also a Fellow of the Geological Society of Australia for his significant contribution to the science of geology. Alan's on-going research encompasses various aspects of geoscience, including palaeomagnetism, structural geology, geochronology and sedimentology to answer geologically significant questions.
The title for Alan's talk is The Flinders Fulcrum - Earth's Proterozoic Pivot.
The inaugural GSA GOLD will be held on Tuesday 1 September at 1.30 pm AEST, 1.00 pm ACST (Adelaide), 11.30 pm AWST (Perth).
Abstract: Why is the Earth different from Mars? Yes, it has water, but so did Mars. The Earth was looking pretty stable until 720 million years ago when we pivoted towards habitability. The Flinders Ranges are iconic Australian arid mountains, with a wealth of history from first nations to drought-stricken nineteenth century farmers, but the very rocks that make them up contain the evidence for how Earth became habitable for large multicellular animals. Even if we find life on Mars, it will be like life on Earth a billion years ago or more. Our oxygenated atmosphere, our nutrient rich seas - what makes Earth different from any other planet we know - developed while the rocks of the Flinders Ranges were deposited. They contain the evidence of our planetary Proterozoic pivot and it is what makes this rock system a true site of World Heritage.
Registration for GSA GOLD is free for all GSA members, but non-members can also register for just $10.00.
Non-members can also use the GSA GOLD registration fee as part of their joining fee when applying for membership with the Geological Society of Australia. Please email info@gsa.org.au for more information.
Please click here to register for GSA Gold. Following your registration, you will be sent a link to attend GSA GOLD on Zoom.
FROM THE DIVISIONS
In the interests of the health and safety many Divisions are holding meetings and technical talks online and that means you can join any online meeting or listen to any online talk from any location.

Hunter Valley Branch Online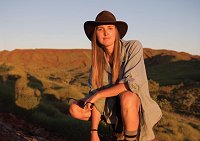 Tuesday 1st September 2020 - Online AGM
Tara Djokic, UNSW
Implications for astrobiology from early signs of life preserved in the Pilbara, Western Australia
5.15 pm start/catch-up, 5.30 - 6.00 pm talk, 6.00 - 6.30 AGM
Members will be sent a link to register prior to the online meeting.



Abstract: The study of early life on Earth provides insights into the potential environments where life may have arisen, informs on life's earliest metabolisms and habitats, and can guide the search for life in the solar system and beyond. This presentation describes lithofacies and biofacies associated with Earth's oldest subaerial hot spring deposits from the lower chert-barite sequence of the ca. 3.5 Ga Dresser Formation (DFc1), Pilbara Craton, Western Australia.
Stratigraphic, petrographic, morphologic, and geochemical data document a range of microbially inhabited hot spring deposits, which formed on an emerged land surface within a hydrothermally-active, low-eruptive volcanic caldera complex. Detailed mapping and stratigraphic analysis along the entire eastern exposure (~14 km) of DFc1 in the North Pole Dome has defined four members (M1-M4).
Lithostratigraphic data is linked with rare earth element and yttrium data (REE+Y) that, together, show a transition upsection from marine (M1) to terrestrial (M2) conditions, and back to marine conditions (M3-M4). These transitions are interpreted to reflect magmatic inflation causing crustal uplift during M1 and M2, followed by deflation causing caldera collapse during M3 and M4.
A caldera model is supported by rapid lateral facies changes at a local scale, controlled by active growth faults now occupied by hydrothermal chert+barite veins. Hot spring sinter (geyserite) and possible travertine (terracette+shrub) deposits are associated with a range of microbial biosignatures including stromatolites, shrub-like microbialites, microbial palisade fabric, and bubbles trapped in the mineralised remnants of inferred microbial exopolymeric substance (EPS).
Concentrations of boron in deposits associated with hot spring sinters may indicate another composition of hot spring fluids. Dresser hot spring, and related, lithofacies and biofacies are texturally and chemically comparable to proximal, middle and distal hot spring facies characteristic of Phanerozoic subaerial geothermal deposits e.g., Yellowstone National Park, USA, New Zealand and the Drummond Basin of Queensland, Australia. The results of this study have significant implications for the origin of life on Earth by expanding our geological perspective on the available environments inhabited by very early life, and may play an important role in the search for life in temporally relevant hot spring systems on Mars.

NSW Division Online
Click here if you want to watch previous presentations from NSW Division Meetings online.
Now online:
• April 2020 - Dr Patrick Smith - Trilobites and Isotopes
• May 2020 - Dr David Och - Churchill Fellowship Geotechnical Database for NSW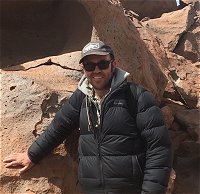 Thursday 10th September 2020
Luke Milan, University of New England
A review of the Great Serpentinite Belt in the Southern New England Orogen
6.00 pm
A Zoom link will be sent to NSW Division members on Thursday prior to the meeting. There will be a quiz and question time for those joining us live. For more information please contact: sabin.zahirovic@sydney.edu.au

Abstract: The Great Serpentinite Belt of Eastern Australia is a ~1500km long dismembered ophiolite assumed to be Cambrian in age despite the contrasting ages (Cambrian - Devonian) and complex P-T histories of studied inclusions within it. A reinvestigation of the belt involved gathering new datasets on poorly understood sections of the belt and comparing them with previously studied components. With this new data we are able to gain a fresh look at the belt's history and its significance for the eastern Gondwana margin in the Palaeozoic.

QLD Division Online
Tuesday 25th August 2020 - AGM
Online and face-to-face if circumstances allow.
Hyperspectral scanning applications in coal measures
Professor Joan Esterle, University of Queensland
5.15 pm for 6.00 pm
Face-to-face venue: Transcontinental Hotel, 482 George St, Brisbane A Zoom link will be sent to QLD Division members prior to the meeting.
Rocks and Landscape Notes online
Two new Rocks and Landscape Notes on the Brisbane Valley and Kilkivan Rail Trails can be downloaded for free here.
This information was gathered by members Bill D'Arcy and George Winter who documented the geological exposures and landscapes along the new Brisbane Valley and Kilkivan Rail Trails, which are increasingly being used by recreational walkers, cyclists and horse riders. This information was edited and formatted by Warwick Willmott and is now available for free download from the GSA website.

SA Division Online and Face-to-face
Thursday 20th August 2020 - Online AGM
The SA Division AGM will be held online via Zoom. An email with a link to register for the AGM has been sent to all SA Division members. After registering, you will receive a confirmation email containing information about joining the meeting at 6.50 pm.
For questions regarding the SA Division AGM please email annaepetts@gmail.com
Thursday 17th September 2020 - Careers in Geosciences Evening
Speaker and Topic TBA
Sprigg Room, University of Adelaide
Thursday 15th October 2020 - Geology at Flinders Uni Lecture
Speaker and Topic TBA
Flinders University
Thursday 19th November 2020 - Zoom / lunchtime meeting
Dr Rachelle Kernan
Salt Diapirs of South Australia
Geological Survey of South Australia, Department for Energy and Mining, Level 4.
May 2020 talks online
Teagan Romyn, University of Adelaide: Felsic metastability during continental subduction: The Norwegian Western Gneiss Complex as a case study and
Dillon Brown, University of Adelaide: Evidence for Mesoproterozoic- & Cambrian-aged metamorphism from the high-grade rocks of central Tasmania: insights into the metamorphic history of western Laurentia and East Gondwana are both available here.

TAS Division
Tuesday 13th October 2020 - GESSS-TAS, Virtual Symposium
5.00 pm - 7.00 pm. See: https://gesss-tas.wixsite.com/2020 for details.
Saturday 31st October 2020: Spring Field Trip to the Tasman Peninsula
Contact Phil for further details geodtas@iinet.net.au
Thursday 3rd December 2020 - Geoscience Forum
9.00 am - 5.00 pm, Forum Dinner 7.00 pm
Strahan Village, The Esplanade, Strahan, Tasmania
Field trips Friday 4th December to visit historic and geological sites of interest.

Expressions of Interest for Guest Speakers: Please email the Tasmanian Branch if you have any suggestions for speakers (tasmania@ausimm.com.au)

VIC Division Online
Thursday 27th August 2020 - Online AGM
Speaker TBC
6.00 pm. Details and a link will be sent to members prior to the meeting.
Now online:
• June 2020 - The 2020 Howitt Lecture (held with the Royal Society of Victoria)
presented by Alfons VandenBerg: Writing on Stone: Graptolites and Ancient Ground

WA Division
October AGM
The WA Division plans to hold its Annual General Meeting at the Irish Club, Subiaco, in early October. The meeting will precede the first of a renewed series of Monthly Talks, following temporary suspension due to the coronavirus pandemic.
Vitor Barrote has generously recorded his presentation 4D evolution of replacement-type VHMS ore systems in the Yilgarn Craton, Western Australia for the GSA WA Division.
GSA MEMBERSHIP
Renew and/or Reactivate your membership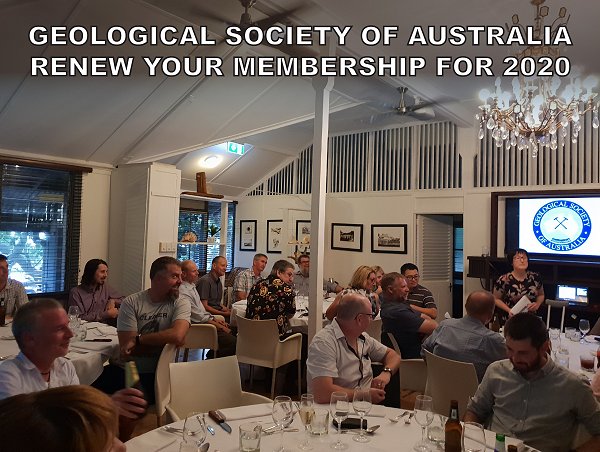 Are you missing issues of GSA publications for 2020 because you haven't renewed your membership? Do you want to strengthen your links with other geoscientists and enjoy new GSA initiatives, online meetings and conferences? If you haven't renewed your membership why not do so today to receive the following benefits and more!
• Discounted registrations for the AESC 2021,
GESSS and reduced prices for GSA publications
• The Australian Geologist, featuring the society news and features
• Access to Australian Journal of Earth Sciences (AJES) or Alcheringa,
plus online access to Geodinamica Acta and International Geology Review
• Satisfaction in supporting and attending GSA Division online meetings,
talks and activities.
Renew through the GSA website:
1: Click here to sign into the GSA website;
2: Click on your name at the top of the homepage;
3: Click on the orange Renew Now button. This will allow you to pay for your renewal.


Renew via Electronic Funds Transfers:
Account Name: Geological Society of Australia Inc.
(BSB: 082067 Account Number: 52-507-4491

NOTE: for EFT payments, make sure to include your name or GSA membership ID, and email payment advice to publications@gsa.org.au.
The staff at the GSA Business Office are happy to help if you have any questions or require assistance in renewing/reactivating your membership. Simply email membership@gsa.org.au.
GSA EVENTS
GESSS 2020
GESSS is a national program of symposia and an initiative of the Geological Society of Australia. Student conferences organised by students for students nationally. Registration is free for Students and Non-Student GSA Members. For more information about GESSS contact info@gsa.org.au.
12-16 October 2020 - Virtual GESSS for Earth Science Week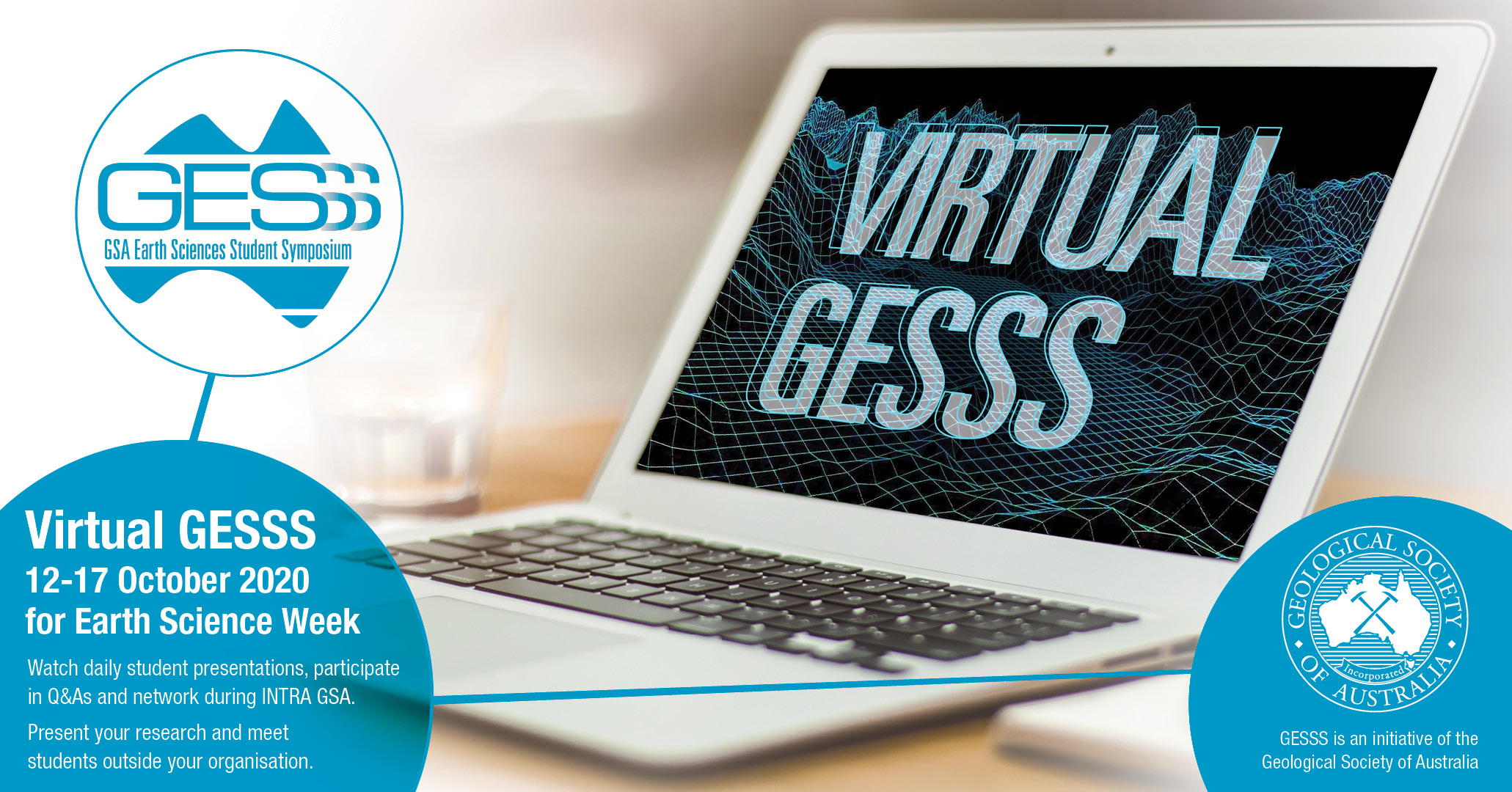 Virtual GESSS will be held online during Earth Science Week 2020. The Earth Science Week theme is Earth Materials in Our Lives. Participants will be encouraged (but not obligated) to base their presentations around this theme.
Each day's session will be organised by a GESSS committee representing a different state - QLD, TAS, ACT, NSW and WA. Daily sessions will be 2.5 hours in length with the first 2 hours dedicated to 6-8 student presentations and the final 20 minutes will be an INTRA GSA for participants and viewers to network.
Virtual GESSS will be held at different times across Australia
Monday, 12 October: Queensland
AEST: 2.00 - 4.30 pm
AEDT: 3.00 - 5.30 pm
ACDT: 2.30 - 5.00 pm
AWST: 12.00 - 2.30 pm
Tuesday, 13 October: Tasmania
AEST: 4.00 - 6.30 pm
AEDT: 5.00 -7.30 pm
ACDT: 4.30 - 7.00 pm
AWST: 3.00 - 5.30 pm
Wednesday, 14 October: ACT
AEST: 4.00 - 6.30 pm
AEDT: 5.00 -7.30 pm
ACDT: 4.30 - 7.00 pm
AWST: 3.00 - 5.30 pm
Thursday and Friday, 14 & 15 October: timing TBC
Webinars: There will be two webinars held in conjunction with Virtual GESSS. These are designed to give presenters (and other interested participants) skills that are associated with presenting at an online event. The webinars will be open for all GSA members as well as GESSS registrants.
Webinar 1: Promoting on Social Media
Hosted by Verity Normington, this webinar will provide participants with practical tips and skills on using social media to promote their participation in the event. The aim of this will be to generate an online conversation around Virtual GESSS and further engage the GSA members in the event. The webinar will also include basic skills for using social media for science communication and having an online presence.
Webinar 2: Presenting Online
This webinar will give participants some practical skills for presenting in a virtual event. The skills required to present online are different to those typically adopted for traditional events.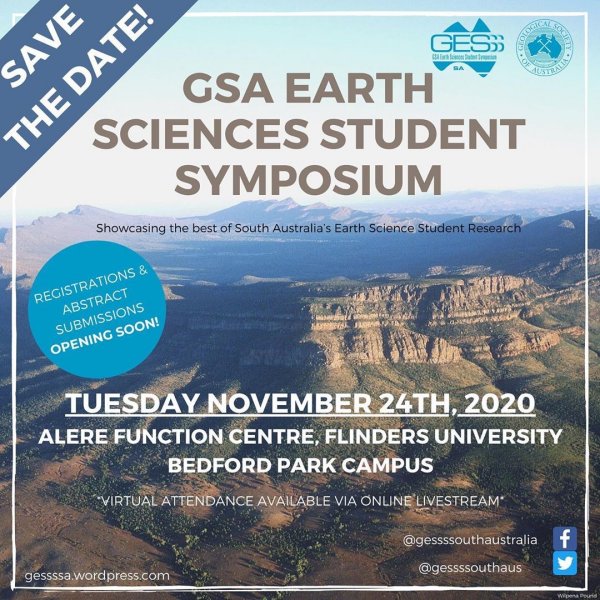 25 November 2020 - GESSS SA
Students from Flinders University, University of South Australia and University of Adelaide can either attend or present their research in person or participate digitally online. Students will promote their talents to future employers, discover new areas of research at other universities, and meet new people within the Earth sciences field.
Location: Alere Function Rooms, Flinders University and streamed online
Registration: Click here
Website: Click here
Abstract Submissions are now open.
Next INTRA GSA (Informal NeTwoRk cAtchup for GSA Members) - 9 September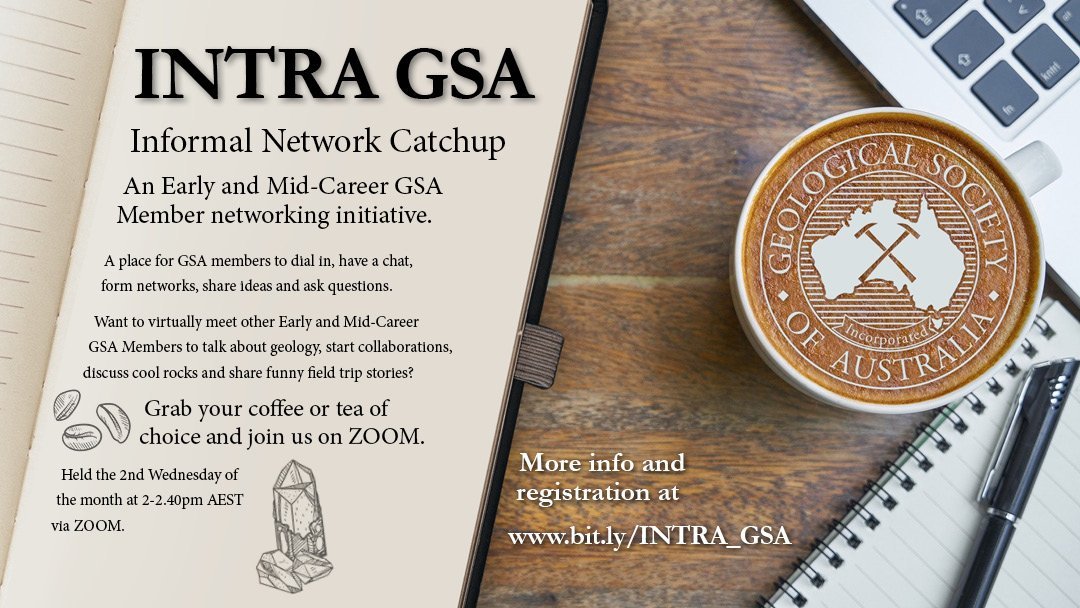 If you're an early (ECG) or mid-career (MCG) GSA member and would like to register please click here.
About INTRA GSA
INTRA GSA is an online gathering place for ECG (students, graduates and early careerists) and MCG GSA members to dial in, have a chat and form networks, share ideas and ask questions.
INTRA GSA gatherings are hosted and facilitated by Verity Normington (Governing Council and GSA-NT), Amber Jarrett (GSA-ACT) and Tim Holland (GSA Business Office).
Each gathering is held for 40 minutes (2.00 pm - 2.40 pm AEST) on the second Wednesday of every month.
If you would like to register for INTRA GSA, please note you must be a financial member of the GSA. Once you are registered for INTRA GSA, you will be sent an email with a link for attending INTRA GSA on Zoom. Links will be sent on the morning of each INTRA GSA.
If you would like to attend an INTRA GSA on a specific date, please select a single date ticket.
If you would like to attend all INTRA GSA please select a reoccurring ticket.
Register Now for the AESC Online Convention

Please go to https://www.aesconvention.com.au/registration/ for new information and prices for AESC 2021 - now online!
AESC 2021 FAQ
A list of frequently ask questions for the AESC 2021 has now been launched online.
Example: What does registration include?
Registrants will have access to the online platform which will enable you to
- Access to all online presentations (live, pre-recorded and on-demand content)
- Access to ePoster presentations
- Access to the online exhibition hall
- Ability to connect one-on-one with exhibitors
- Access to the online meeting hub
- Workshops
- Access to recorded sessions pre + post event
The answers to other frequently asked questions can be found here:
https://www.aesconvention.com.au/online-faq/

AESC 2021 session description spotlight: Geoscience Education
chaired by Dr Sandra Villacorta
There is an urgent need to improve understanding of the approaches to educational content in Geosciences worldwide.

Geoscience education is an interdisciplinary field dedicated to the processes that will lead to geoscientists' formation. In this context, new contributions to research are required.

The scope of this session is to discuss conceptual bases and research approaches to geoscientific knowledge at the secondary and university levels, including approaches specific to Australia. We welcome the participation of professionals from the International Geoscience Education Organization.
IN THE NEWS
National Science Week - take a virtual field trip today!
National Science Week technically runs from 15 - 23 August, but as with past years, it's spread over the rest of August as well. There is something for everyone, including movies and beer tasting!
Find out more here.
ProjectLIVE has produced a range of virtual experiences that are available for Virtual Reality goggles and also web browsers. On the ProjectLIVE website you will find a number of Earth Science projects listed, including Beyond the Ice, RoXplorer VR, Wicked Witchelina, and the North Terrace Geological Trail and SA Museum Fossil Galleries.
Another British theropod
Four bones recently found on the Isle of Wight belong to new species of theropod dinosaur named Vectaerovenator inopinatus. The Cretaceous dinosaur is estimated to have been up to four metres long.
Press release: https://tinyurl.com/y6jwjsx8

Boomerang earthquakes are a thing
Analysis of a large earthquake on the Romanche fracture zone in the equatorial Atlantic shows that this rupture had two phases: an upward and eastward propagation towards a weaker region where the transform fault intersects the mid-ocean ridge followed by an unusual very fast back-propagation westwards towards the centre of the fault. Dubbed a boomerang earthquake, researchers note such an event has not been factored into hazard assessments previously but needs to be considered given how much extra ground movement might be generated.
News report: https://tinyurl.com/yxm9vw5d
Research abstract: https://tinyurl.com/y3t2vmvq

ON THE WEB
Roy Woodall Medal applications close 31 August 2020

The Australian Geoscience Council is now calling for nominations for the inaugural award of the Roy Woodall Medal. Nominations will be required to provide a succinct overview of the achievements and successes of their nominee. Nominations should also provide evidence of how the nominee stands out above other geoscientists as a rightful recipient of this award. Nominees should either be an Australian or have done the bulk of the work for which they are being nominated for in Australia. The nominations should include three referees, separate to the nominators, prepared to support the nomination for this award. The nominators and nominee should all be members of at least one of the AGC Member Organisations
Click here to read more.
Click here to access the online application form.

The University of Adelaide Industry PhD program and scholarship
A new PhD opportunity is available through the University of Adelaide: Tracing subsurface ore deposits through the isotope analysis of regolith/cover: Coupled Cu and S isotope approach applied to a rock-soil-water-plant system. The project aims to apply and test novel isotope tracers for mineral exploration, specifically stable copper (Cu) and sulfur (S) isotopes, which will be analyzed in regolith systems developed above prospective areas.
Application deadline is 31 August 2020: Find out more here.

IN THE MEDIA
MinEX CRC highlights
The fourth instalment of the quarterly MinEx CRC vNews is now available online. Read all about the state-of-the-art mineral systems mapping and prospectivity assessment techniques under development, the World's first square-kilometre optic fibre distributed acoustic sensing 3D seismic reflection experiment and the Dynamic Loop instrumented plumbing system that simulates fluid circulation within drill holes under carefully controlled conditions.
https://tinyurl.com/y3eg6xbu

Milanković one hundered years on
This year marks one hundred years since the publication of Milutin Milanković's Mathematical Theory of Heat Phenomena Produced by Solar Radiation. This work was the first complete mathematical explanation of how small changes in the rotation and paths of planets around the Sun influence the amount of solar insolation.
https://tinyurl.com/yyuw9q95

He found another one!
A Tanzanian miner recently found two extremely large pieces of Tanzanite and instantly became a rich man, with each piece worth millions of dollars. Even more recently, it is reported that he has found a third large specimen worth about US$2 million. He says he will not change his lifestyle and plans to build a school and health facility for his community.
https://tinyurl.com/yxkzver2

Mars: The field trip continued ...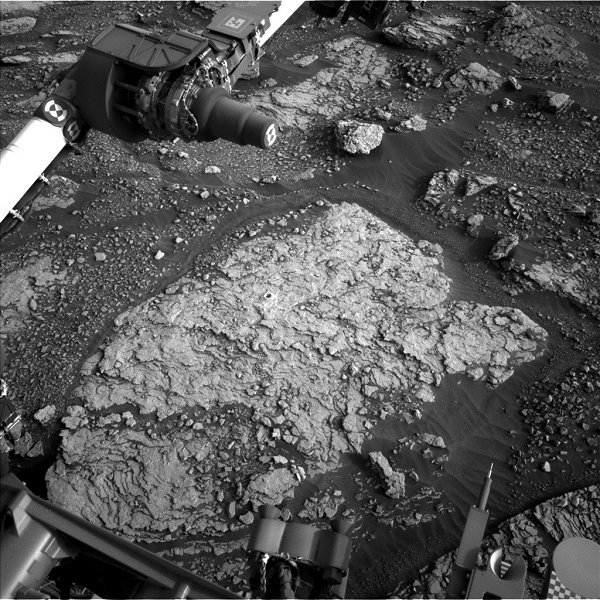 More at Mary Anning
The Mary Anning site is proving to be geologically diverse, with numerous analyses being employed across a range of lithotypes. Drilling at this site was successful, the drill hole is visible in the upper left of the rock and both the powder surrounding the hole and the extracted material have been analysed.
https://tinyurl.com/y6jvx6a8
Image courtesy of NASA/JPL-Caltech.


Insight's weather report
https://mars.nasa.gov/insight/weather/

Early Mars: Cold or warm?
https://tinyurl.com/y4m2ng2b


More news from the solar system ...

Arecibo gashed
https://tinyurl.com/y3rfxptd

Venus still active?
https://tinyurl.com/y64sx5jz

Ammonia hailstones on Jupiter
https://tinyurl.com/yxgnuj8g

We live in a bubble shaped like a deflated croissant!
https://tinyurl.com/y277vrzk

Ceres still a water world?
https://tinyurl.com/y6xsoesc

Hayabusa 2 extended?
https://tinyurl.com/yyczot8k

Trojan Eurybates has a moon
https://tinyurl.com/y5eztsoq
Read about Lucy here.
Just like home ...
https://tinyurl.com/y3da42qm


... and elsewhere ...

Betelgeuse OK?
https://tinyurl.com/y2y28lqk

TESS now extended to 2022
https://tinyurl.com/y3v6to8b

What's in AJES
Access to AJES online
You can access the Australian Journal of Earth Sciences online through signing into the GSA website. Go to www.gsa.org.au and click 'Sign In' at the top of the homepage. After you enter your sign in credentials, please click on your name which will appear at the top of the page. This will take you to your profile page where you will click on the tab 'My Journals'. Here you will be provided a link to access AJES plus Geodinamica Acta and the International Geology Review. Once you click on these links, you don't need to enter any other sign in details - you are already authenticated and should have full access to the journals including every issue of AJES published!
Note: Hard copy publication of AJES 67/2+ will be delayed because of reduction in international postal services but will be delivered when possible. The online publication of issues will be as per our planned schedule.
AJES 67/6 Flinders Ranges Thematic issue 1
The Flinders Ranges: dawn of life cycles and influences set in an area of outstanding regional geological evolution
S. B. Hore and W. V. Preiss (Guest Editors)
Geoscience in the Flinders Ranges: papers in support of World Heritage Nomination.

Geological overview
W. M. Cowley
Geological setting of exceptional geological features of the Flinders Ranges.
Read the abstract
Neoproterozoic
M. G. Rowan, T. E. Hearon IV, R. A. Kernen, K. A. Giles, C. E. Gannaway-Dalton, N. J. Williams, J. C. Fiduk, T. F. Lawton, P. T. Hannah and M. P. Fischer
A review of allochthonous salt tectonics in the Flinders and Willouran ranges, South Australia.
Read the abstract
R. A. Kernen, K. A. Giles, P. L. Poe, C. E. Gannaway-Dalton, M. G. Rowan, J. C. Fiduk and T. E. Hearon
Origin of the Neoproterozoic rim dolomite as lateral carbonate caprock, Patawarta salt sheet, Flinders Ranges, South Australia.
Read the abstract
M. Corkeron and P. Slezak
Stromatolite framework builders: ecosystems in a Cryogenian interglacial reef.
Read the abstract
C. H. H. Conor, and W. V. Preiss
Cryogenian glaciomarine megaclasts of the MacDonald Corridor, Bimbowrie Conservation Park, Olary Region, South Australia.
Read the abstract
Ediacara
S. D. Evans, P. W. Dzaugis, M. L. Droser and J. G. Gehling
You can get anything you want from Alice's Restaurant Bed: exceptional preservation and an unusual fossil assemblage from a newly excavated bed (Ediacara Member, Nilpena, South Australia).
Read the abstract
C. M. S. Hall, M. L. Droser, E. C. Clites and J. G. Gehling
The short-lived but successful tri-radial body plan: a view from the Ediacaran of Australia.
Read the abstract
P. W. Dzaugis, S. D. Evans, M. L. Droser, J. G. Gehling and I. V. Hughes
Stuck in the mat: Obamus coronatus, a new benthic organism from the Ediacara Member, Rawnsley Quartzite, South Australia.
Read the abstract
L. M. Reid, J. D. Holmes, J. L. Payne, D. C. García-Bellido and J. B. Jago
Taxa, turnover and taphofacies: a preliminary analysis of facies-assemblage relationships in the Ediacara Member (Flinders Ranges, South Australia).
Read the abstract
M. L. Droser, S. D. Evans, P. W. Dzaugis, E. B. Hughes and J. G. Gehling
Attenborites janeae: a new enigmatic organism from the Ediacara Member (Rawnsley Quartzite), South Australia.
Read the abstract
AJES 67/7 Flinders Ranges Thematic issue 2 - online papers to date
Paleozoic
J. B. Jago, J. G. Gehling, M. J. Betts, G. A. Brock, C. R. Dalgarno, D. C. García-Bellido, P. G. Haslett, S. M. Jacquet, P. D. Kruse, N. R. Langsford, T. J. Mount and J. R. Paterson
The Cambrian System in the Arrowie Basin, Flinders Ranges, South Australia.
Read the abstract
T. J. Mount, J. B. Jago, N. R. Langsford and C. R. Dalgarno
Geological setting of the Moorowie Formation, lower Cambrian Hawker Group, Mt Chambers Gorge, eastern Flinders Ranges, South Australia.
Read the abstract
N. R. Langsford
Tectonic controls of sedimentation within the lower Cambrian Hawker Group, Brachina-Bunyeroo area, west-central Flinders Ranges, South Australia.
Read the abstract
N. R. Langsford, T. Raimondo and J. B. Jago
Red Crust: evidence for an early Paleozoic oceanic anoxic event.
Read the abstract
J. B. Jago, and P. D. Kruse
Significance of the middle Cambrian (Wuliuan) trilobite Pagetia from Yorke Peninsula, South Australia.
Read the abstract
S. B. Hore, S. M. Hill, A. J. Reid, B. P. Wade, N. F. Alley and D. R. Mason
U-Pb geochronology reveals evidence of a Late Devonian hydrothermal event, and protracted hydrothermal-epithermal system, within the Mount Painter Inlier, northern Flinders Ranges, South Australia.

AJES 67/8 Flinders Ranges Thematic issue 3 - online papers to date
Cretaceous and younger
N. F. Alley, S. B. Hore and l. A. Frakes
Glaciations at high latitude southern Australia during the Early Cretaceous.
Read the abstract
D. C. Lubiniecki, R. C. King, S. P. Holford, M. A. Bunch, S. B. Hore and S. M. Hill
Cenozoic structural evolution of the Mount Lofty Ranges and Flinders Ranges, South Australia, constrained by analysis of deformation bands.
Read the abstract
S. B. Hore, S. M. Hill and N. F. Alley
Early Cretaceous glacial environment and paleosurface evolution within the Mount Painter Inlier area, northern Flinders Ranges, South Australia.
Read the abstract
S. M. Hill, S. B. Hore, and V. Normington
Uranium in animals, vegetables and minerals: Landscape geochemical and biogeochemical expressions of the Four Mile West sedimentary uranium deposit, South Australia.
I. D. Lewis
Linking serial geo-sites into a prospective geo-trail for the Flinders Ranges World Heritage Nomination, South Australia.
AJES 68/1
S. Jones, K. F. Cassidy and B. K. Davis
Unravelling the D1 event: evidence for early granite-up, greenstone-down tectonics in the Eastern Goldfields, Western Australia.
Read the abstract
S. Bodorkos, J. L. Crowley, J. C. Claoué-Long, J. R. Anderson and C. W. Magee Jr.
Precise U-Pb baddeleyite dating of the Derim Derim Dolerite, McArthur Basin, Northern Territory: old and new SHRIMP and ID-TIMS constraints.
Read the abstract
B. P. J. Stevens
Using amphibolite chemistry to assist structural and stratigraphic interpretation at Broken Hill, Australia.
Read the abstract
M. E. Gray, R. Daniel, J. Kaldi and D. Kulikowski
Generating pseudo-capillary pressure curves from Nuclear Magnetic Resonance (NMR) Data: a case study from the Cooper Basin, Australia.
Read the abstract
D. Cluzel
Subduction erosion: contributions of footwall and hanging wall to serpentinite mélange; field, geochemical and radiochronological evidence from the Eocene HP-LT belt of New Caledonia.
Read the abstract
D. Wang, Y. Zheng, R. Mathur and H. Ren
Sulfur isotopic characteristics of the Zhaxikang Sb-Pb-Zn-Ag deposit in southern Tibet.
Read the abstract
J. Gao, D.-W. Lv and H.-Y. Liu
Sedimentary environment and geological significance of the Upper Devonian Wutong Formation in northern Yangtze Plateau, China.
Read the abstract
AJES 68/2
K. F. Bull, A. L. Troedson, S. Bodorkos, P. L. Blevin, M. C. Bruce and K. Waltenberg
Warrumbungle Volcano: facies architecture and evolution of a complex shield volcano.
Read the abstract
J. B. Jago, C. J. Bentley, J. R. Paterson, J. D. Holmes, T. R. Lin and X. W. Sun
The stratigraphic significance of early Cambrian (Series 2, Stage 4) trilobites from the Smith Bay Shale near Freestone Creek, Kangaroo Island.
Read the abstract
Q. Deng, A. Jiang, Z. Tong, H. Lin, Z. Gao, X. Sun and M. Nie
Evaluation of favourable hot dry rock areas in the east of the Yishu fault zone in China.
Read the abstract
A. Babaahmadi, P. Brooks and M. Grant
Post-orogenic structural style and reactivation in the northern Bowen Basin, eastern Australia.
Read the abstract
J. Sun, Y. Qian, Y. Li, H. Li, S. Tian and F. Sun
Intermittent subduction of the Paleo-Tethys Ocean in the middle-late Permian: evidence from the mafic-intermediate intrusive rocks in the East Kunlun Orogenic Belt.
Read the abstract
R. Fakhruddin, T. Ramli, D. Fadli and D. Kurniadi
Facies analysis and palynology of late Miocene to Pliocene sediments exposed at Timika-Tembagapura section, Papua, Indonesia.
Read the abstract
P. Li, J. C. Zhang, X. Tang, Z. P. Huo, Z. Li, K. Y. Luo and Z. M. Li
Assessment of shale-gas potential of the lower Permian transitional Shanxi-Taiyuan shales in the southern North China Basin.
Read the abstract
S. Niroomand, D. Poreh and A. Kananian
Multi-disciplinary ore deposit exploration in Sonqor, northwest Iran.
Read the abstract
AJES 68/3
E. Baudet, C. Tiddy, D. Giles, S. Hill and G. Gordon
Diverse provenance of the Lower Cretaceous sediments of the Eromanga Basin, South Australia: Constraints on basin evolution.
Read the abstract
J. J. Cooling, J. L. Crowley, J. L. McKellar, J. S. Esterle, R. S. Nicoll and V. Bianchi
Stratigraphic constraints on the Lower Cretaceous Orallo Formation, southeastern Queensland: U-Pb dating of bentonite and palynostratigraphy of associated strata.
Read the abstract
C. J. Adams, H. J. Campbell and W. L. Griffin
Detrital zircon age studies of Haast Schist in western Otago and Marlborough, New Zealand: constraints on their protolith age, terrane ancestry and Au-W mineralisation.
Read the abstract
T. Wells, S. Meffre, D. R. Cooke, J. Steadman and J. L. Hoye
Assessment of magmatic fertility using pXRF on altered rocks from the Ordovician Macquarie Arc, New South Wales.

B. Wadood, S. Khan, A. Khan, M. W. Khan, Y. Liu, H. Li, S. Ahmad and A. Khan
Diachroneity in the closure of the eastern Tethys Seaway: evidence from the cessation of marine sedimentation in northern Pakistan.
Read the abstract
AJES is available to financial members of the GSA. Don't miss the next issue because your membership has lapsed!
Coming up in TAG
September issue coming soon
The September issue of TAG has a lot to offer for everyone and includes:
• Updates from our Governing Councillors;
• Presentation of the new Code of Conduct for GSA members and attendees for
all GSA events and activities;
• News on Geoheritage, Geotourism, AJES, our Divisions and Specialist Groups, GESSS SA
and Virtual GESSS, Governing Council Elections and NRG (Tasmania's Mount Roland);
• Features on our urban geological heritage, AESC 2021 online
and microbes and geological processes;
• Special Reports on GSAQ high school rock and mineral sets and the GSA Decadal Plan;
• Forums on the USGS unified geological map of the Moon and Boumas,
Turbidites and Tempestites;
• Endowment Fund updates; book reviews and more!
As a sneak peak, featured here is the best image posted on the GSA's Instagram account over the past three months. This image was taken by GSA member Colin Bembrick. Congratulations Colin!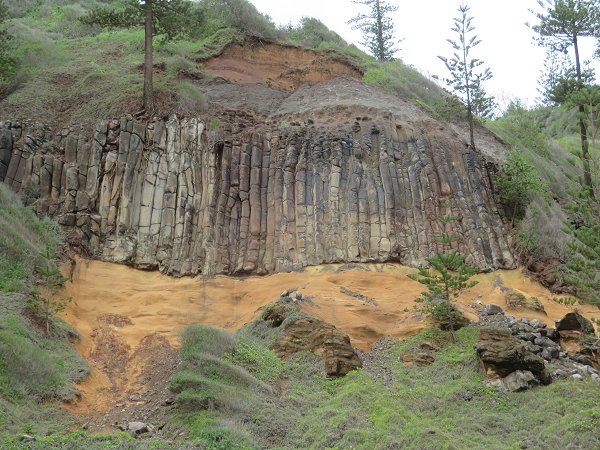 Columnar jointing in one of the flows of the Cascade Basalt behind Anson Bay, Norfolk Island. Multiple flows in this unit have been dated (Young & McDougall, 1973) as between 2.4 and 2.7 Ma. Bedded tuffs and soil profiles separate the flows, which have normal magnetic polarity. Image courtesy Colin Bembrick
The GSA Instagram account has over 32,000 followers and posted over 800 images relating to geoscience and the GSA. To share your images: tag #geologicalsocietyofaustralia in post captions from your own account. Email a photo to Tim Holland (tim.holland@gsa.org.au) or Phil Gilmore (phil.gilmore@planning.nsw.gov.au). Please remember to add some geological information and context, the location and your name. Remember to follow the account too!
While the deadline to submit content for the September issue of TAG has passed, GSA members can submit a column or promote an event for the December issue of TAG. The copy deadline for December issue is 16 October. Please email any questions or content to info@gsa.org.au.
JOB VACANCIES
Seeking EOI for contract geological editor and mineral photographer
The Geological Survey of NSW is seeking contractors to work intermittently with its Geoscience Information unit throughout 20/21.
An experienced geological editor is required to work remotely, assisting in production of a range of items including technical manuscripts, geological maps, geotourism brochures, posters, general interest flyers and geotrail apps.
A skilled photographer with mineral handling experience is required to photograph minerals from our Economic Rock and Mineral Collection onsite at the W B Clarke Geoscience Centre, Londonderry. This will include unwrapping mineral specimens, validating mineral labels, and using your own photographic equipment.
Contractors will need public liability insurance, workers compensation insurance and an ABN.
Please provide a short summary outlining your interest, skills, experience, photographic equipment, availability and pay rate to:
simone.meakin@planning.nsw.gov.au (editing)
Kim.marchiori@planning.nsw.gov.au (photography)
WHAT'S ON
DEADLINES:




Roy Woodall Medal applications close 31 August 2020
The Roy Woodall Medal seeks to recognise scientific excellence in both mineral exploration and the documentation of world-class mineral deposits
Click here to access the online application form.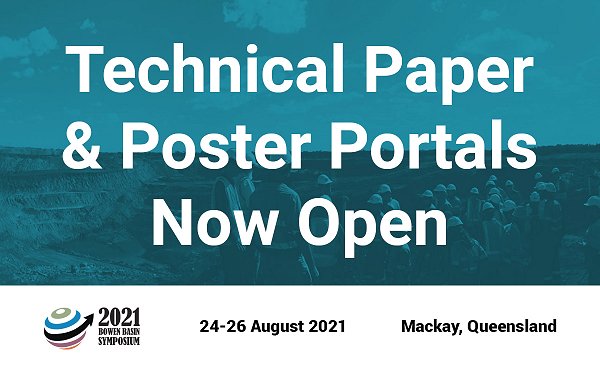 Bowen Basin Symposium, 24 - 26 August 2021
All presenting authors will have now received a notification of their abstract status. If you have not received an email with the status of your submitted abstract, please contact the Symposium Secretariat.

Technical Paper and/or Poster content due 23:59 (AEST) Sunday 29 November 2020
Early bird registrations now OPEN and close 31 January 2021
Bowen Basin Symposium, 24 - 26 August 2021
Coal: Embracing Change and Innovation
http://www.2020bbs.com.au/
Early bird registrations have re-opened for the 2021 Bowen Basin Symposium. Register here now to take advantage of early bird rates, available until 31 January 2021.

---

2020 EVENTS:
Fire, flood, storm and cyclone: applying science to the challenge Online, 19 August 2020
Inaugural GSA GOLD, Online, 1.30 pm AEST, 1.00 pm ACST (Adelaide), 11.30 pm AWST (Perth), 1 September 2020
INTRA GSA , Online, 2.00 pm - 2.40 pm AEST, 9 September 2020
Coalfield Geology Council NSW meeting, Online, 10.00 am - 11.00 am, 4 September 2020
CSIRO Symposium: The Future of Meetings, Online, 17 September 2020
Minesafe International Digital Conference 2020, Online, 22 - 23 September 2020
Virtual GESSS for Earth Science Week, Online, 12 - 16 October 2020
GESSS SA, Adelaide and Online, 24 November 2020
Abstract Submissions are now open.
https://gessssa.wordpress.com/

Soil Science Joint Conference, Cairns, 29 November - 4 December 2020
Asian Current Research on Fluid Inclusions, Townsville, 1 - 3 December 2020
---

2021 EVENTS:
2021 is International Year of Caves and Karst
Read more here.
http://www.iyck2021.org/

SAVE THE DATE!
The Australian Earth Sciences Convention, online, 9 - 12 February 2021
From the Core to the Cosmos
https://www.aesconvention.com.au

Epithermal Au-Ag and porphyry Cu-Au exploration Short course
http://corbettgeology.com/short-course/.
Registrations open in October. Contact greg@corbettgeology.com to be put on the priority list
Underground Operators Conference 2021, Perth, 15 - 17 March 2021
Austmine 2021, Perth, 25 - 27 May 2021
2021 Bowen Basin Symposium, 24 - 26 August 2021
http://www.2020bbs.com.au/
Early bird registrations have re-opened for the 2021 Bowen Basin Symposium. Register here now to take advantage of early bird rates, available until 31 January 2021.

Inaugural Advancing Earth Observation Forum, Brisbane, 23 - 27 August 2021
---
Target 2020, postponed until 2022
6th International Archean Symposium, Perth, postponed until 2022
---
CONTACTS
Head Office
Suite 8, Level 2,
141 Peats Ferry Road
Hornsby NSW 2077
ph (02) 9290 2194
www.gsa.org.au
Education and Outreach
Publicity
GEOZ advertising
Accounts